Note: There are additional issues, evidence (photo, video, audio) and witnesses, however the supporting facts and evidence provided is enough for the community to understand the convention is not safe.
At the time of writing no apology has been issued from AnthrOhio relating to the issues.
Table Of Contents
Issues
Issue #1: Harassment
UPDATE 03/02/2020: A new rule for the AnthrOhio SFW group was created to prevent future harassment and libel. Currently there is historical written harassment and libel, if removed this article will be updated.
AnthrOhio has decided not to moderate their Telegram SFW group and would prefer to spread rumor about myself and others. Many staff and board members are in the group and have not spoken up regarding the behavior.
Issue #2: Protecting Sex Offenders / Child Molesters
I did ask for a refund and to also remove my name as a volunteer from the site. I feel associating with an organization who protects child molesters isn't something I want my name attached to, there are also AltRight connections relating to specific staff.
Working with law enforcement to revoke parole on Jonathan Eugene beer and also alerting the community (via Telegram and Facebook) of a HIGH RISK sex offender, AO decided this was "harassment."
At no time did I harass anyone, I did ban him from my house parties and groups on Telegram.
I run protected communities, the list can be found here. I deal with hundreds of users per day: https://k9sentry.com/protected-communities/
Jonathan Eugene Beer, aka John Remmer
https://k9sentry.com/2019/10/16/jonathan-eugene-beer-convicted-child-molester-and-tier-iii-sex-offender/
AnthrOhio was notified, but the reaction wasn't well received. They decided to ban me instead of banning a high risk child molester.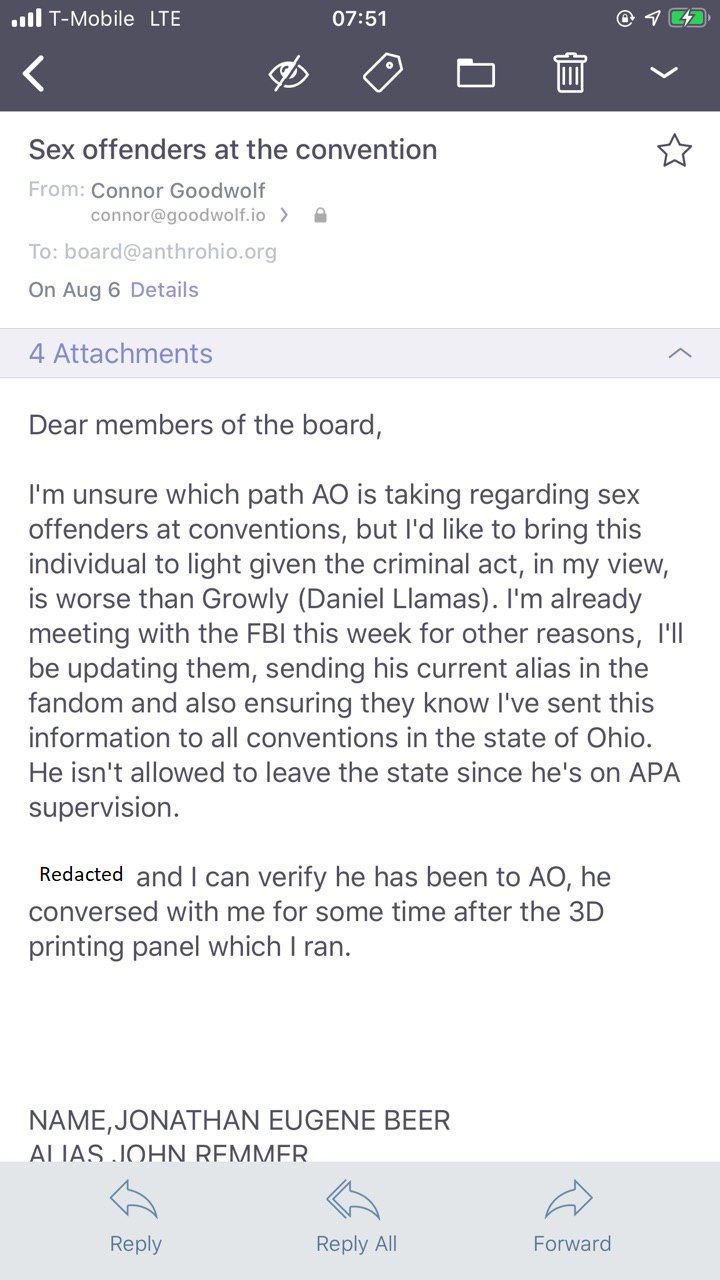 Shortly after AnthrOhio sent a letter on Mr. Beer's ability to attend AnthrOhio. Instead of checking the sex offender registry or current parole status they decided to green light a convicted child molester where children were present.
note: Missing Man in the image is Sonny von Casper, former room mate of Jonathan Beer and local to Columbus, Ohio.
Link to forwarded Telegram message: https://t.me/anthrohio_evidence/5

Issue #3: Non-Profit Status
After AnthrOhio decided to harass and even engage in coercion (I filed a police report on Matthew Young, at the time I decided not to go through with charges) I decided to research the business records. Matthew Young no longer lives in Ohio but the Ohio business record search has his old address.
AnthrOhio is registered as a non-profit in Ohio, but there's no record with the IRS and no 990 / 1023 / 1024 filings which must be filed EVERY YEAR. I'm unsure which name AnthrOhio performs their legal operations, but clearly the business registration and proper filings with the IRS isn't in compliance with FEDERAL LAW. This means AnthrOhio would be recognized as a Taxable Non-Profit Entity without the proper filings.
Ohio Business Search: https://businesssearch.ohiosos.gov/
IRS Tax Exempt Search: https://apps.irs.gov/app/eos/
Issue #4: SWATing
Upon confronting them with this information one of the members, I'm not going to mention which, decided to SWAT me. They sent the ATF a message stating I was bringing weapons to Gallery Hop and was "dangerous". They were made aware of the ill intentions of the person who made the report. The ATF will contact me directly if they receive any other unlawful "tips". I'd like to take the time to mention submitting tips which are untruthful is still an unlawful act which can result in fines, jail time and even child protective services removing children from care.
Issue #5: Alt-Right / AltFurry
Relevant Information to AnthrOhio and Alt-Right / AltFurry:
https://k9sentry.com/2019/05/24/the-kentucky-furs-calamity/
Why now?
I don't take this action lightly, after speaking with various people in law enforcement from detectives, patrolmen to federal agents I've come to the conclusion people who protect sex offenders who pose HIGH RISK or want to ignore the problem don't belong here.
Protecting the community
People wonder why I carry firearms or weapons, these type of people (threats to others) are exactly why I carry. I'm a protector, a sentry for the community. If anyone has questions then please reach out, I'm exceptionally friendly.
If you are a zoophile, pedophile, child molester, apologist or supporter of the previous mentioned, then you're not welcomed in the furry fandom.
Columbus Area furry Sex Offenders arrested in 2019
Jonathan Eugene Beer, aka John Remmer
https://k9sentry.com/2019/10/16/jonathan-eugene-beer-convicted-child-molester-and-tier-iii-sex-offender/
Cody Prater, aka Kaji Taiki
https://k9sentry.com/2019/08/02/cody-layne-prater-convicted-pedophile-sentenced-to-4-years-in-jail-for-child-pornography/
Side Note: The Gallery Hop is run by Short North, nobody owns the furmeet which has been passed around for a number of years. Anyone is free to go. The venues and law enforcement have been notified already regarding certain individuals and possible protections of child molesters by AnthrOhio.
Additional information on this will be added to https://t.me/anthrohio_evidence